sinnfrei.fword.de and lifesaunix.fword.de are born!
by blog on 11.06.2006, 02:44
This night two new blogs are born! Heute nacht wurden zwei neue Blogs geboren.
http://sinnfrei.fword.de
is bringing the newest stories about things happening in politics, media and life in general, that - to my opinion - lack a certain sense or are outright dumb.
bringt Euch die neuesten sinnfreien Geschichten aus Politik, Medien und dem Leben im Allgemeinen.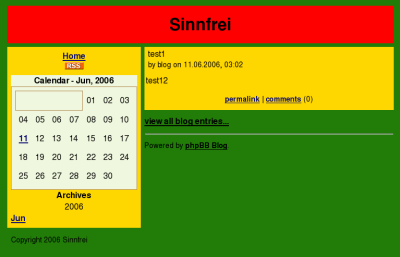 http://lifesaunix.fword.de
is where I am to collect stories that are (re-)written in *nix shell script. Just for fun.
wird ein paar Geschichten in *nix Shell Skript beherbergen - einfach so zum Spass.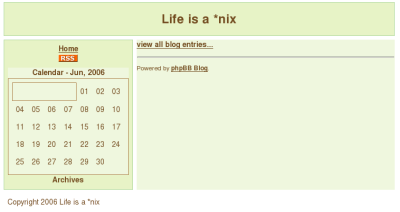 Have fun,
Schubi.
Deutschland ist im Achtelfinale!
by schubi on 14.06.2006, 22:08
... Germany's made it into the round of sixteen ... tonight we beat Poland 1:0 which should send us straight into the Achtelfinale

Olé, Olé Olé.
We'll be Weltmeister!
Black Saturday / Schwarzer Sonnabend
by blog on 24.06.2006, 14:26
Today I learnt that I have failed the course I took at
www.itcarlow.ie
last year.
Ich habe heute erfahren, dass ich das Studium am
www.itcarlow.ie
nicht bestanden habe.
Well it wasn't that black after all / Doch nicht so schwarz
by blog on 30.06.2006, 01:47
Ooooh-Kay... That black Saturday I was writing about earlier was "only" grey at most.
Turns out that ITC doesn't put a limit on the number of repeats for an exam and neither is there a time frame limit for completing the course.
So I have failed to pass Software Engineering 2 but I can still repeat it and thus graduate from ITC at some later time.
Ooookay. Der schwarze Samstag war doch nicht so schwarz - hoechstens grau.
Today it's "Good-bye Argentinia"

Wie sich herausstellte, setzt das ITC keine Grenzen bezueglich der Zahl der Wiederholungspruefungen oder des Zeitrahmens, in dem alle Pruefungen bestanden werden.
Ich hab' nun zwar die Pruefung nicht bestanden, kann sie aber wiederholen und somit den Abschluss am ITC erhalten. Halt nur etwas spaeter ...
Heute heisst es "Auf Wiedersehen Argentinien"