Summer/Sommer 2007 in Dublin
by schubi on 19.06.2007, 20:50
... well well - you'd guess, its raining. After a few good days not so long ago, where we were actually hitting temperatures around 25 degrees and when there was even such a thing as the room being too warm at night to sleep comfortably, the weather's back to normal.
Let's not complain too much though, you never know, could well be, we'll get another sunny day or two in September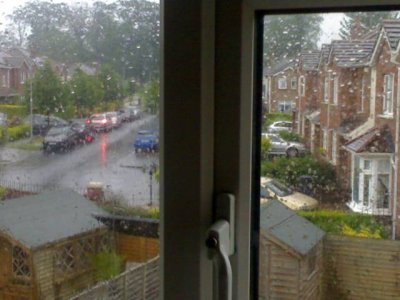 Nuja ... Ihr koennt's Euch denken - Regen. Nachdem wir vor kurzem ein paar schoene Tage hatten, an denen die Temperaturen sogar um die 25 Grad erreicht hatten, und als es sogar so etwas wie 'zu warme Zimmer am Abend' gab, ist nun alles wieder wie gehabt.
Na ich will mich nicht zu viel beschweren - wer weiss, es koennte ja noch einen oder zwei schoene Tage im September geben

Spammer name & shame / spammerpranger
by schubi on 29.06.2007, 16:28
If you are short on an email address for that stupid website that you only gonna visit once and yet the ask you for an address to bug you on, feel free, to help yourself out of that pool of spammer-addresses below.
Falls Ihr mal ne Emailadresse braucht, um Euch bei ner nervigen Seite zu registrieren, nehmt Euch eine von den Spammeradressen hier.
Abed0@thecharitylink.com
Anterha11@hornyvideoblog.com
Cariena@fansiteonline.com
dizzylittle@e-mail.com
Dgf334@thepageyellow.com
Furry@fansiteonline.com
illlziiiizig@yalta.krim.ws
kenncierley@rupr.org
kgfihriwe@bk.ru
Stertard89@bargainphotoblog.com
Suckmy@kindnessevent.com
Tenbasmoupha@thecharitylink.com
johnjunior@hotmail.net
Zachary@bargainphotoblog.com
visit me on Bebo / Besucht mich auf Bebo!
by schubi on 30.06.2007, 01:06
Hi,
most of you will have heard of bebo - a social networking site especially popular in Ireland and the UK. Well, I've been dusting my bebo account recently and put a few things online. So feel welcome to pay me a visit, leave a note and let me know what you think.
No, the blog will stay here, so you can keep this bookmark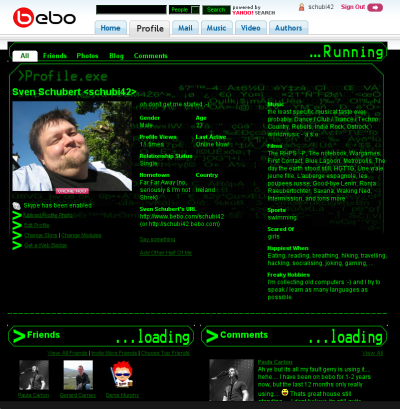 Ihr werdet Bebo wahrscheinlich noch nicht kennen - es ist eine social networking webseite, die aehnlich wie myspace funktioniert und vorallem in Irland und dem UK beliebt und verbreitet ist. Ich hab meinen alten bebo account ein wenig entruempelt und ein paar Sachen online gestellt. Betrachtet Euch eingeladen, mal vorbeizuschauen.
Nein, das Blog bleibt hier, ihr braucht das Lesezeichen also nicht zu loeschen.