Sorry les Bleus ...
by blog on 09.07.2006, 23:28
...I would have liked to see youse win the world cup. Now the Italians have beaten us both ...

... Ich haette Euch gern Weltmeister werden sehen. Nun haben die Italiener uns beide besiegt.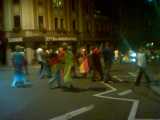 Germany made it to 3rd place when it defeated Portugal 3 : 1 Saturday night.
Here's a few photos taken with my Nokia 3650 mobile phone .. some 15 minutes before the final whistle and a few minutes afterwards.
click here:
http://pics.fword.de/2006/DE/HOF/wm2006/index.html
hier klicken
Deutschland wurde 3. durch den Sieg gegen Portugal Sonnabend nacht.
Hier sind ein paar Bilder die ich mit meinem 3650 aufgenommen habe.