sinnfrei.fword.de and lifesaunix.fword.de are born!
by blog on 11.06.2006, 02:44
This night two new blogs are born! Heute nacht wurden zwei neue Blogs geboren.
http://sinnfrei.fword.de
is bringing the newest stories about things happening in politics, media and life in general, that - to my opinion - lack a certain sense or are outright dumb.
bringt Euch die neuesten sinnfreien Geschichten aus Politik, Medien und dem Leben im Allgemeinen.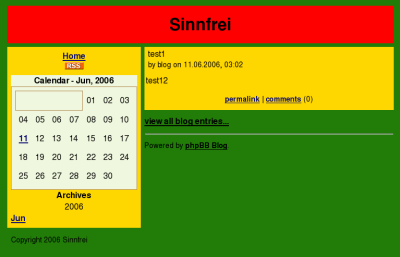 http://lifesaunix.fword.de
is where I am to collect stories that are (re-)written in *nix shell script. Just for fun.
wird ein paar Geschichten in *nix Shell Skript beherbergen - einfach so zum Spass.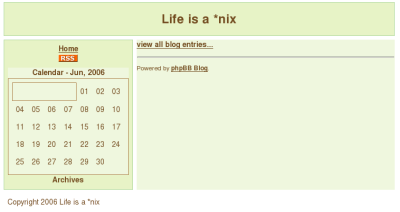 Have fun,
Schubi.